Soil stabilisation seminar: Finish Geotechnical Society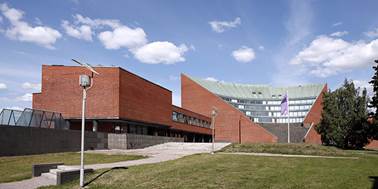 The Finnish Geotechnical Society, Ground Improvement Committee arrange the soil stabilization seminar at Aalto University every year. This year the seminar was on 27th of August, with about 81 participants from public authorities, consultants and contractors.
The program included 12 presentations on topics of which 2 presentations from participants outside Finland. Arnstein Watn, Watnconsult AS made a presentation entitled "Geosynthetics Applications and Geosynthetic Certification" prepared by him and Christian Recker, Senior Project Manager in SINTEF. The presentation gave an overview of functions and applications of geosynthetics with a number of project examples from the Nordic countries. The NorGeoSpec system was presented with the certification requirements and experiences from the introduction in 2002 up to 2015. The NorGeoSpec system is now implemented in Sweden, Finland, Norway and Estonia and is also used in other countries.
The presentation was very well received and it was concluded that the NorGeoSpec system was an important tool to ensure the quality delivered on the market. It was also emphasized the importance of cooperation between the Nordic countries to develop common requirements for the use of geosynthetics also in other areas than currently covered by NorGeoSpec.

Presentation can be found here.